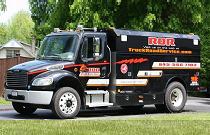 "Serving the Mid Hudson Valley since 1987"
845-566-7103
We offer 24 hour emergency roadservice, onsite tractor trailer truck repair and contract fleet services. We are an authorized road service medallion holder for Interstate I-84 & I-87 (NYS Thruway).
We will work on your unit at any D.O.T. out of service inspection location. Authorized to place your unit "Back In Service" after completion of repairs. 24hr/7 days
Will work on all makes/models of tractor trailer trucks and have extensive training for electronic engine controls. 60 Series Detroit Diesel, Cummins, Cat, and Mack Diagnosis available.
Trailer liftgate service, diagnosis and repairs done "On Site".
Welding and fabricating service done "On Site".
Emergency road service is available between the Connecticut & Pennsylvania state lines and from Saugerties to Sloatsburg. Major towns within our local region include Newburgh, Maybrook, Modena, Montgomery, Walden, Vails Gate, Middletown, Port Jervis, Beacon, Fishkill, Poughkeepsie, New Paltz, Kingston, Harriman, Monroe, Marlboro, New Windsor, Cornwall, West Point, Peekskill and many others. If needed, we will go farther.